Bridge to the Future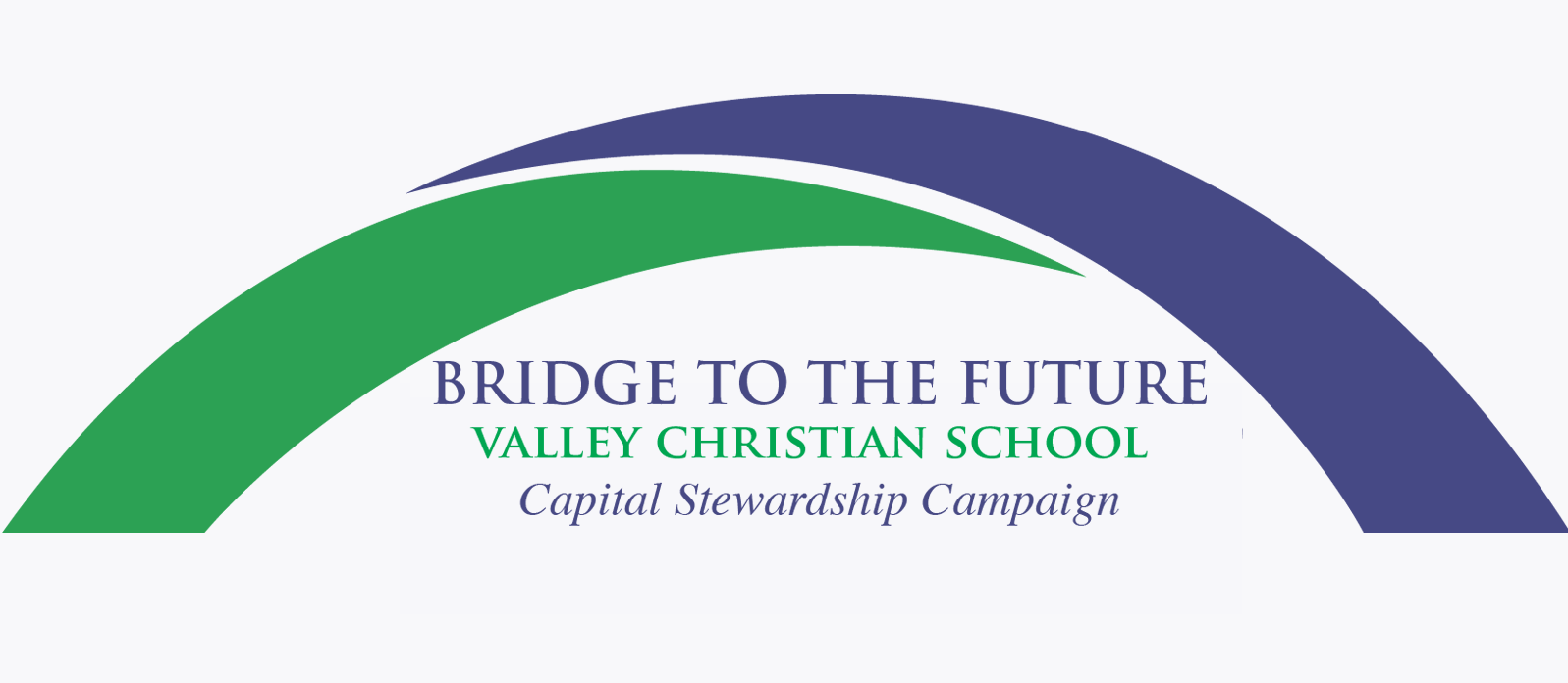 We live in a world in which the lives of children are being pulled in various directions, even at very young ages. There is a constant struggle between good and evil for the very souls of our youth. Historically, it has been shown that the younger a child comes to know the Lord, the more likely he/she is to remain faithful to Jesus. In fact, surveys have shown that 85% of those who become Christians do so between the ages of four and fourteen.
Since 1979, Valley Christian School has assisted hundreds of young people to develop their gifts and serve God in all aspects of life. And, with our plan for the future, there is little doubt that the commitment to quality education within a Christian environment will remain strong. With this in mind, we begin the Bridge to the Future Capital Stewardship Campaign.
The campaign has several goals – all of which will enhance the school as we look to the future. The roof on the South Building needs to be replaced to secure a quality learning environment; our line of credit and the amount of our mortgage need to be reduced to secure our financial future; and we must make a significant effort toward balancing our annual budget. Therefore, the campaign includes funding for this year's and the next two years' budgets so we can eliminate the year to year financial concerns and avoid crisis fund raising.
CAMPAIGN NUMBERS
Funding 2017-2018 budget – need as of January 1, 2018 $513,769
Replacement of roof on South Building $150,000
Line of Credit $348,000
Mortgage on VCS facilities $410,000
Fund-raising Goal for 2018-2019 General Fund $450,000
Fund-raising Goal for 2019-2020 General Fund $425,000
Total Campaign Goal for three years $2,296,769



CAMPAIGN PRINCIPLES
The campaign is built on three Biblical principles that explain our role as Christian stewards.
1. God is the owner of all – Psalm 24:1
2. We are stewards, not owners – illustrated by the story of the talents in Matthew 25:14-30
3. We are blessed to bless others – Galatians 6:10
This third principle is the focus of Bridge to the Future. By investing in this campaign, we are not only being a blessing to current students and those who will attend VCS in the future, but also to those who are impacted by our graduates.
CAMPAIGN UPDATE
Campaign Progress as of January 7,2019: $1,132,902
This includes current commitments, additional gifts & budget savings
CAMPAIGN PRIORITIES
Understanding that we cannot always know what the future might bring, the Board of Directors believes it is important for donors to understand how they foresee the funds being applied over the next three years.
First priority is to complete fund-raising needs for the 2017-2018 budget ACCOMPLISHED

Second priority is to reduce Line of Credit by at least $200,000 - $100,000 payment made
Third priority is to replace the roof on the South Building ACCOMPLISHED
Fourth priority is to provide the fund-raising income ($400,000) for the 2018-2019 general fund - $227k (1/7/19) has already come in toward that goal
Fifth priority is to eliminate outstanding Line of Credit
Sixth priority is to decrease the mortgage on school facilities by $100,000
Seventh priority is to provide the fund-raising income for 2019-2020 general fund
Eighth priority is to eliminate the mortgage on the school facilities
COMMITMENT TO DONORS
A goal of the Bridge to the Future Stewardship Campaign is to encourage parents current and past, grandparents, alumni and other friends to provide the funding of these important needs and set the school on a path to eliminate financial stress.
As we ask for your assistance, you can be assured that the school leadership will always focus on academic quality and the values instilled in students to maximize their impact for Christ for generations to come.